Great Speakeasy Swing Jazz Band!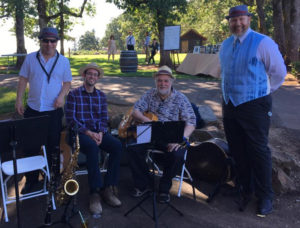 A premier Portland jazz band, The Little Big Band plays great speakeasy style swing jazz music in the gypsy style of Django Reinhardt. Led by singer and multi-instrumentalist Josh Gilbert, we are available as a trio with two great guitarists for small events, or as a quartet with a bass player for larger events.
Contact us and we'll get back to you right away!
You can listen to some of our music here!
…or…
check out our upcoming shows!
Great 1920s, 1930s, 1940s Jazz Music, Perfect for Dancing!
We specialize in music for weddings, private parties, and corporate events. Our music is great for background music, dinner and dancing, and is very family friendly. We also offer special packages for wedding ceremony music, including flute & guitar or vocal performance.
We are the ideal performers for any Gatsby-themed events, swing dances, prohibition-themed parties, 1920s parties, birthday parties, weddings and bar-mitzvahs, or any special event where classic jazz is desired.
Flexible lineups to meet your need and budget
We often play as a trio with Josh on horns, plus two guitars. We also often add a stand-up bass player for that classic swing sound. We can also call one of our great violinist friends, and we often add an accordion when we play French music. We are experienced professionals who know how to tailor our music to meet the needs and budgets of our clients.
Music that Makes You Feel Good!
Whether setting a mellow background mood with some great Bossa Nova, or getting everyone out on the dance floor with some high energy swing dance sounds, The Little Big Band is your best choice in the Portland area for great jazz music. No matter what the event, we know how to bring the swing!